Lady Eleanor Holles School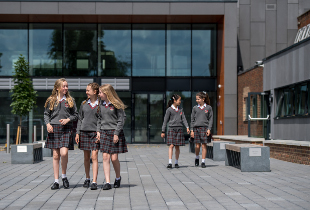 Overview:
Lady Eleanor Holles (LEH) is a remarkable school. It is an establishment where girls successfully combine impressive intellectual endeavour with enthusiastic engagement well beyond academia. Our students' public exam results and sporting achievements are among the best in the country whilst musical and dramatic activities place them among the best of young performers. But there is more to LEH life than academic achievement: if young women left here with excellent exam results alone, we would be disappointed.
Our goal is that LEH students become expert learners, unafraid to tackle new and challenging ideas, prepared to take risks, and able to learn from failure. Our school motto "Hope Favours the Bold" sums it up beautifully – at LEH, students learn to be courageous and ever hopeful, optimistic and determined in all that they do.
Our students successfully balance outstanding scholarship with impressive achievements in sport and exciting creativity in the arts and beyond. With superb facilities set in 24 acres, we offer bright pupils a well rounded and challenging education in a happy, purposeful environment, preparing them well for higher education and their future lives.
Our aim is to ensure that LEH is a school full of opportunity, challenge and friendship; a place to take risks and become bold; a place to discover passions, talents and yourself; a place that nurtures remarkable women. The school is a Christian foundation but welcomes pupils of all faiths and none. It is committed to the contribution it makes to society as a whole, to equal opportunities and to embracing diversity.
View our Fee Assistance Information
Our Schools
Click on a school name to view the school profile, including its arrangements for fee assistance and admissions information.