Francis Holland School, Regent's Park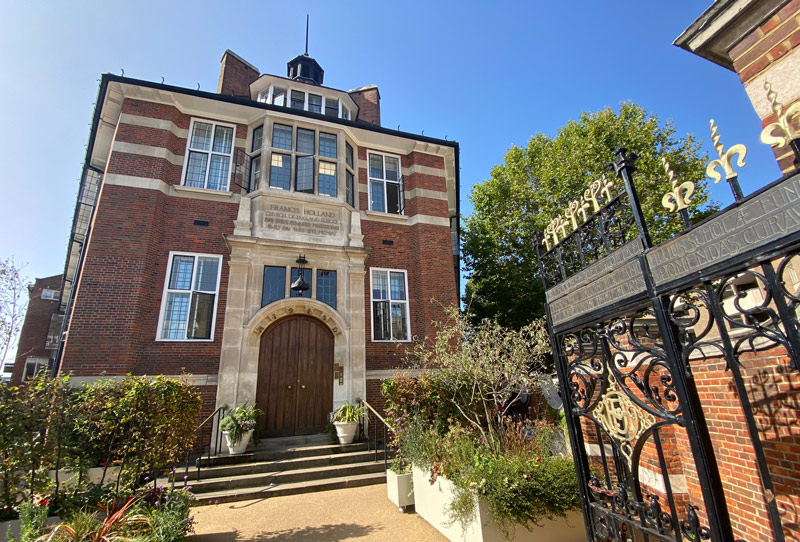 Overview:
At Francis Holland School, Regent's Park, our core values of Knowledge, Compassion, Spirit and Perseverance underpin the School's ethos, enabling our pupils to flourish in an ambitious, supportive educational environment. We strive to ignite a lifelong love of learning, delivering a well-rounded, and forward-thinking schooling for life. The School was reported as 'Excellent' in its March 2022 Educational Quality ISI Inspection Report and it was noted that "the school balances academic success with well-being very effectively so that pupils can be successful, but also happy".
Here at Francis Holland, your daughter will be taught by well-qualified and dedicated teachers. She will learn to appreciate the culture and diversity of contemporary London, whilst also feeling secure that her school has a tradition of excellence which stretches back over 140 years.
The location and surroundings of the School, its proximity to Regent's Park and its links to elite universities, all contribute to a sense of aspiration and achievement. Your daughter's learning will be enhanced by the broad range of co-curricular clubs and societies as well as our innovative enrichment programmes, such as the pioneering Hale lecture series which will introduce her to inspirational female leaders across different sectors and careers.
Our Sixth Formers enjoy their own dedicated Sixth Form Centre, Linhope House, which provides the perfect transition between school and university, offering a unique 16+ education in a modern, state of the art learning space.
Francis Holland's central London location offers a wonderful environment in which to learn. It is an exciting and busy school and will offer your daughter the opportunity to reach her fullest potential.
View our Fee Assistance Information
Our Schools
Click on a school name to view the school profile, including its arrangements for fee assistance and admissions information.