King's College School, Wimbledon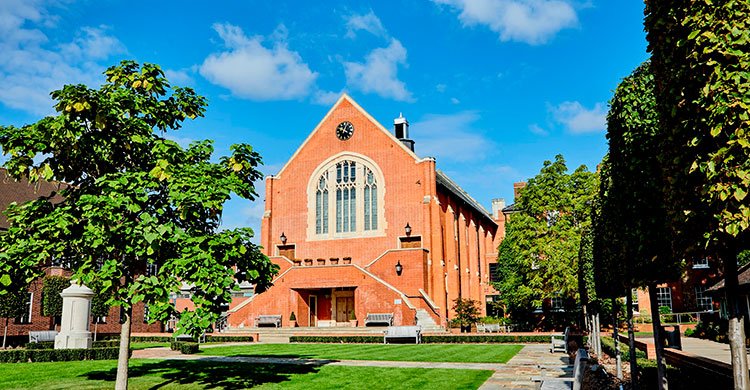 Overview:
King's College School is an independent day school for boys aged 7-18 and girls aged 16-18. Founded in 1829 by royal charter, it is a school of over 1400 pupils and is one of the most academically successful schools in the world. King's has been rated the top boys' and co-educational school in London for the past three years by The Sunday Times Parent Power. Nearly 250 King's sixth formers have won places at Oxbridge in the last six years, with over 90% of pupils going to their first choice university.
We are a forward-thinking and innovative place to learn. For us, education is not just about academic subjects and extra-curricular activities – it is also about values. We want our pupils to be kind, thoughtful, courteous, tolerant and sympathetic to the needs of others. The result is excellent relationships between students and those responsible for them. We have also enjoyed two-way partnerships with thirty local maintained secondary and primary schools for many years.
We accept boys at the age of 11 directly into year 7 of the senior school from both primary and prep schools. We significantly expanded our Year 7 entry at 11+ in 2016 and are now able to offer increasing numbers of free, or greatly subsidised, places, where appropriate. We have also retained our year 9 entry for boys aged 13 from prep schools.
We admit girls into our sixth form, convinced that co-education in the two years preceding university is a natural and positive step for boys and girls alike. As well as being a very successful International Baccalaureate school, we also offer sixth form pupils the opportunity to study from a wide A level curriculum.
King's is a short distance from Wimbledon's underground and overground station in one of London's greenest and safest suburbs. It offers a spacious campus of nearly 20 acres, including state-of-the-art facilities, such as a new sports hall and swimming pool (opened in 2019) and a stunning new music school (opened in 2018). Further playing fields and a boathouse are within easy reach.
View our Website
Our Schools
Click on a school name to view the school profile, including its arrangements for fee assistance and admissions information.